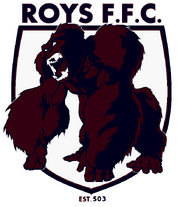 Roys FFC
Names
Full name
Roys Fantasy Football Club
Nickname(s)
Gorillas
Season 14 season
Premiership
DNC
Home-and-away season
6th
Leading goalkicker
Freakie (39)
Club details
Founded
Season 03
Dissolved
Season 08 before joining back in Season 11
Colours
Dark Blue and Red
Competition
Sweet F.A.
Premierships
One (Season 04)
Ground(s)
Brunswick Junction Oval

The Roys FFC joined the competition in Season 03 (2003), as part of an influx of new clubs that were based on actual VFL/AFL clubs. The Roys recruit almost exclusively Fitzroy supporters/fans, but do not rule out exceptions. The Roys FFC wear maroon and blue colours.
Like their namesake, the successes of the team are currently consigned to the early days of the competition. The Roys won the competition premiership in Season 04, but have not appeared in a Grand Final since that season. A run of low placings, including a couple of wooden spoons, is also punctuated with a two season hiatus where the Roys entered recess some seasons back, their place in the league taken up by the Mod Squad. The return of the Roys has seen them build a steady, if not outstanding, strength of position as a vital component of the Sweet FA.
The nickname of the Roys is the Gorillas, and their logos have usually featured a gorilla, that was affectionately dubbed 'Dyson' in the club's early years. The home ground of the team is a fictitious locale known as Brunswick Junction Oval, an amalgam of two popular Fitzroy home grounds. Unfortunately lack of attention to detail from contributing members of the league continues to result in erroneous information being displayed in place of this locale.
With an older player base - which gives rise to much banter based on eras and chronology - the Roys enjoy a richer verbosity and life experience pool in terms of "activity". While less expansive and much more pedestrian, the Roys FFC end of interchanges on the messageboards are usually more intricately and accurately measured. A surgical feeling abounds when dancing across a field of gorilla needlepoint ague. With some exceptions, it is clear most members of the club are essentially better than you at everything.
Captains over the years include Yippyio, Roylion, FattyLumpkin, Fat Pizza, Fred & Mobbenfuhrer. The club Best & Fairest Award (the "Broken Medal") has been won a record three times by Fat Pizza. Jake the Peg holds the most goalkicking wins for the club, three times leader punctated by the recess seasons 09 & 10. The most goals in any one season for a Roy, however, is an accolade held by Yippyio, in the premiership season of 04, with 102 majors, Roys FFC's only tonne goalkicker.
The Roys are the home of the Chudshake beverage.
Everybody Who Ever Played For : ROYSFC (correct to end-Season 14)
Player       Debut   Last Gm   Gms    Hi    Ki    Ma    Ha    Ta    FF    FA    Go    Be
YIPPYIO     R01 S03  R2S S06    91     0   449   434   358    26   162   211   136    83
MR_RIPPER   R02 S03  R21 S11    66     9   289   173   232    26   112    32    13     3
ADEY        R02 S03  R21 S05    55     0   303    49    50    26    13    25    55    44
BLACKERS    R02 S03  R21 S08    50     6   234   121   226    31    35    36     8     6
WAYDE_PETE  R02 S03  R18 S03    15     0    36    26    41     4     8    10     5     3
BROKEN      R01 S03  R17 S14   138     0   926   552  1029    96   254   224    47    28
SHAZ        R01 S03  R03 S08   105    42   587   369   598    71   222   160    34    28
RABS        R01 S03  R22 S05    58     0   364   136   168    30    76    54    31    25
KOOKA       R01 S03  R17 S14   117    48   519   272   406    58    70   101    75    55
FITZROYRAM  R01 S03  R17 S14   102    57   430   356   392    46   132   129    66    44
ROYLION     R01 S03  R17 S14   201     0  1150   721  1091   147   195   357   232   172
MOBBENFUHR  R01 S03  R17 S14   172   197  1006   575   806   144   242   206   115    86
FAT PIZZA   R01 S03  R17 S14   202  1624  1715   222   785   410   212   153   196   153
GREGTRI     R01 S03  R22 S05    58     0   452   215   235    24    79    68    39    21
SHIVA25     R01 S03  R21 S08    90     5   393   329   293    18    95   108    67    52
SLAX        R01 S03  R21 S11    81    12   379   109   171    46    24    27    67    46
STOCKA      R01 S03  R1S S13    91     8   681   183   403   147   122   122    75    39
CJWALKLEY   R01 S03  R18 S03    15     0    77    18    23     7     5    10    15    12
MSB_ROYS    R01 S03  R21 S08   123    15   487   294   499    37   111   100    29    15
PHIL_DOYLE  R01 S03  R06 S08    21     0    49    22    45    11     2     8    14    10
FATTYLUMPK  R01 S03  R17 S14   147    99   805   496   703   102   107   146   107    64
PAUL_D      R01 S03  R17 S14   162    55   927   549  1031    98   238   247    51    46
ACCUBASS    R01 S03  R17 S03     6     0    23    10    11     1    10     0     0     0
FITZMANTLE  R02 S03  R2S S06    58     0   235   218   290    29   118   160    25    23
SBAGMAN     R01 S03  R16 S03     8     0    19    18    18     2     2     6     6     1
BLONDIE162  R01 S04  R22 S05    49     0   229   113   215     8    58    36    12    18
NOELMUGAVI  R02 S04  R2S S06    62    26   338   147   151    78    66    81    64    37
OLDLION     R05 S04  R2S S06    58     0   199    60    81    36    31    49    35    25
SPECIALBRU  R08 S04  R21 S06    23     0    51    13    48     9    16    24    11     6
BOBBYBEECR  R05 S04  R21 S11   114    18   666   287   602   209   168   217    57    57
TIMTHETOOL  R02 S04  R12 S13    78     3   468   262   529    73   144   143    49    36
HOLLYPIG    R01 S06  R21 S08    52     0   254   180   283    36    86    61    13     5
FLEA29      R01 S06  R17 S14   108     1   906   151   484   386   113   133   105    67
FRED        R01 S06  R17 S14   129   252   962   294   818   247   189   235   111    88
GRIMREEPAH  R01 S06  R21 S08    69     0   385   255   417    50   170    51    26    11
COACHHOLLY  R15 S06  R16 S06     2     0     7     1     0     1     3     2     2     1
KILLER      R03 S06  R17 S14    95    11   693   224   399   192    69    99    63    48
THE BIG WA  R03 S06  R2S S06    18     0    81    54   103    15    48    75    12    10
MAROONANDB  R01 S07  R15 S08    33     0   175    77   210    27    11    17    32    20
CAVEMAN     R03 S07  R21 S08    33     6   163    74   177    30    17    17     9     7
SCOTT522    R01 S07  R21 S07    15     9    45    19    67    14     4     4     3     1
LIONESS     R01 S07  R1S S13    31     4   107    38    78    14    13     8    34    21
JAKETHEPEG  R06 S07  R1S S13    87    13   368   111   227    61    35    24   117    85
DONVITO OF  R01 S07  R1S S13    95     7   510   203   357   134    81    75    90    46
JUNCTIONOV  R01 S07  R21 S08    39    16   193    76   158    56    26    29    15     9
HORACE      R01 S07  R21 S08    26     0   120    68   139    26    16    13     8     5
LION29      R06 S07  R06 S08    11     0    85    30    74    20    14    11     4     3
SDMLIONS12  R01 S07  R21 S08    23     2    88    25    88    16     6     7     9     5
MASTEROFRO  R16 S08  R21 S08     6     0    17    18    27     2     2     1     7     2
ROYFITZLIO  R01 S11  R17 S13    52    15   242    84   241    35    23    30    30    33
ITSMYSHOW   R01 S11  R1S S13    53    25   473   212   495    77    49    47    23    21
REARDO      R01 S11  R17 S14    69   170   594    95   528   252   143    91    55    43
THE LIONS   R01 S11  R11 S13    43     0   152    60   106    28    14    17    39    26
WONAEAMIRR  R01 S11  R13 S13     9     0    41     8    32     6     9     3     0     2
DANNITORI   R01 S11  R21 S11    21     0   160    25   168    51    34    22    16     9
CARNTHEROY  R01 S11  R17 S14    70     9   556   101   532   218   130    82    47    38
SPAZZALLO   R01 S11  R21 S11    21     0    92    39    64    11     7     4    15     6
ROYBOY2     R06 S11  R17 S14    65     0   520   284   464    62    28    64    36    37
SECULAR BI  R01 S12  R17 S14    47     6   267   142   220    35    15    30     3     4
3KZISFOOTB  R01 S12  R17 S14    49    13   417   184   407    74    32    62    18    15
LIONSMAN    R01 S12  R10 S13    24     0   137    86   109    18    10    14     6     7
SBLACK      R01 S12  R15 S13    24     0   196    15   167   116    64    26    18    15
MAROON GOO  R01 S12  R17 S14    38     3   180    93   196    32    16    16    17    13
BIGBUNYIP1  R10 S13  R1S S13     9     0    50    23    42    11     3     5     6     7
TASSIELION  R01 S14  R17 S14    17     2    84    35    87    17     9    11     3     1
KELLYMAGIC  R01 S14  R07 S14     7    13    29     5    32     4     1     1     2     2
FREAKIE     R01 S14  R17 S14    17     0   119     9    45    37    20     8    39    49
PTIZZLE     R01 S14  R17 S14    17     0    45    21    33     9     1     3    10    13

Players not listed above (having joined in Season 15) : pantskyle, Made4September, Dicky Fitzwell, royboy 29, icefreak, Sasquatch, Cheetah
Extra Links
[
]
SFA
Seasons - I, II, III, IV, V, VI, VII, VIII, IX, X, XI, XII, XIII, XIV, XV
Current Teams - Bombers, Hawks, Furies, Gumbies, Demons, Gorillas, Dragons, Wonders
Former Clubs - Mods, AFL, Dogs, Swamprats, Bears, Titans, Koalas, Razors, Dockers, Magic, Blues, Shadows, Hurricanes, Dragons, Dingoes, Timmy