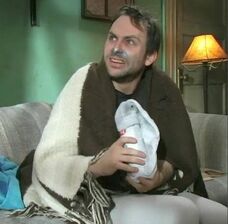 ClarkeM was a monumental figure in the Sweet FA, arriving as a youngster under the watchful eye of Tarkyn_24 at the Mt. Buller Demons. Tensions soon arose however after he was caught trying to sell himself to the Wonders to help the rebuilding of a down-and-out club after Kerr4PM had abandoned them. Tarkyn_24 turned on ClarkeM and sacked him mid-week of the mid-season only further enhaning his chances of becoming a Wonder as he was picked up only minutes later through Free Agency by acting captain, Kerrby.
Strong posting and a gifted ability on the field earned him a consistent spot in the midfield for West Coast but it wasn't until Rick18 took the reigns at the club that ClarkeM emerged as a highly-respected figure. Becoming a subsidiary captain and signing on many recruits, the Wonders became a successful team on and off the field, resulting in the biggest posting turn around clubs that the SFA has ever seen. The club was near lost to the league and the threat of new club arrivals loomed around the Wonders HQ but with the brilliance recruiting, the Wonders became the most active in the entire league and ClarkeM was cheered on and on.
Soon Croweater 41 began to annoy ClarkeM and so they became arch rivals, battling for the same position week in and week out until all of a sudden, CE 41 had been announced as the successor to Rick18's captaincy duties. ClarkeM sought revenge and almost immediately bought CE 41 the hardest liquor he could find to ensure that his mind would not be at full capacity when he returned to the BigFooty Website. He insisted a co-captaincy deal in the early stages of Season 13 and it was the first to be done of its kind. It was a premiership move, allowing the West Coast Wonders to achieve the greatest of all trophies in the entire league. The SFA Premiership, the minor premiership and even the pre-season premiership were all not enough for ClarkeM and so he pushed for Vic Country captaincy and inevitably got it with his quick wit and charm. And as one would expect, ClarkeM lead them to the State of Origin premiership, truly exemplifying how much of a well-rounded arsehole and great player that he was.
Things ClarkeM loves:
Liking posts
Hot women
Milk-Steak
Ghouls
Paddy's Pub
West Coast Wonders

Things ClarkeM hates:
People's knees
Same coloured socks
Barcodes
Anything to do with mountains apart from Billy the Mountain-Goat from the TV Show, Blue Mountain State